Description
Powerful performance
Whether you're building 2D or 3D models or multitasking with demanding applications, the Precision T1700 Workstation can power through intensive tasks easily.
4th generation Intel Core Processors enable fast and stable processing.
Choose Windows 10 Professional for easy productivity.
Powerful graphics options include AMD or NVIDIA professional-grade discrete graphics.
Precision Optimizer helps your professional software run at its peak performance automatically.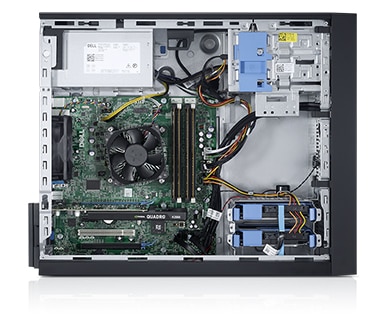 Built to be dependable
The Precision T1700 has undergone extensive testing to ensure strong performance now and into the future.
Optional Dell Data Protection | Security Tools and optional Dell Data Protection | Encryption help make Precision T1700 a secure entry-level Workstation.
Optional mirrored RAID provides redundancy and fast recovery in the event of a drive failure.
Up to 32GB*of optional error-correcting code (ECC) memory corrects isolated soft-memory errors and provides a solid foundation for memory and system stability.
Available self-encrypting drives (SEDs) can reduce security risks and unauthorized access to your data.
Dell services, including Dell ProSupport, can help you protect your hardware investment through a customizable suite of support options.
Smart design, now in two sizes
The Precision T1700 is available in two sizes: a compact
mini tower
and one of the
industry's most compact small form factor (SFF) designs.

The smallest Workstation in its class allows you to bring powerful performance to small spaces.
Two front-mounted USB 3.0 ports enable fast data transfers and easy connectivity to your external media and accessories.
ENERGY STAR 5.2 qualification makes the Precision T1700 an energy-efficient part of your IT ecosystem.
A conveniently placed handhold helps you deploy and position your Workstation with minimal hassle.