Description
Smart productivity
Operating system
Available with Windows 10 ProWork efficiently with the OptiPlex 3010 desktop, featuring essential performance, flexibility and connectivity to help your organization succeed.Achieve high performance
Harness up to Intel Core i5 processor options including Intel Turbo Boost Technology 2.0,ample storage, Intel HD graphics and high-bandwidth memory of the OptiPlex 3010.Experience workplace convenience and versatility
Work comfortably with a system that enables you to customize your workspace with intuitive design, multiple display options and flexible configurations for your peripherals.Easy collaboration promotes success
Collaborate and share data through VoIP and Microsoft Unified Communication certifications.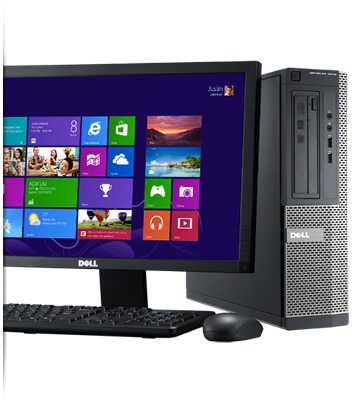 Business-class control
Effective management of your office environment is within reach. The OptiPlex 3010 enables IT administrators to take total control over system management and security protocols, and offers the stability needed to effectively plan for the future.
Efficiently manage your desktop fleet.
Achieve unprecedented IT control in your workplace. In-band management, image sharing between desktops and Dell's System Center Configuration Manager help increase IT efficiency.
Ensure data security across your organization.
Help protect your critical data and meet compliance standards with Dell Data Protection | Encryption* and other security features.
Enjoy the peace of mind provided by business-class stability and support.
As your business grows, hardware stability and support are the key to budget management and forecasting long-term needs. Help IT focus on the most important projects with Dell ProSupport and Dell Deployment Services.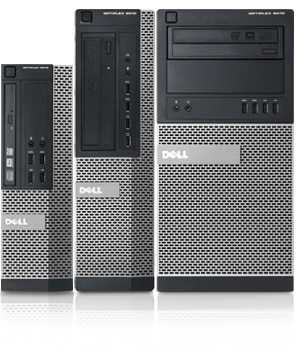 Inspired design.
Built to last and designed to fit your workspace, Dell OptiPlex desktops offer durability and style.
Built to last.
Your business requires a desktop that can handle the tough jobs. Ensure long-term reliability with durable, serviceable Dell OptiPlex desktops.
The right fit for your desk.
Dell OptiPlex systems are designed to integrate seamlessly into any office environment, on virtually any size desk, and with a consistent look across all models.
Designed to help preserve the environment.
Help minimize energy consumption and encourage conservation with the ENERGY STAR 5.2 compliant OptiPlex desktops, featuring highly efficient power supply options and environmentally conscious design features.
Customization and Set-Up
Deployment Services
Our end-to-end deployment services are designed to simplify and accelerate the customization and utilization of your new systems. Dell Deployment Services include everything from order consolidation to coordination of deployment resources.
Managed Deployment
Dell Managed Deployment Services are for customers who need a complete, end-to-end deployment solution. Managed deployments are useful within complex logistical environments which require a single point of contact.
Hardware Customization (CFI)
Dell offers hardware customization services to help accelerate your system deployments. We can perform a range of services such as custom configuration, consolidation, and integration in our factory so that you can deploy your systems right out of the box.ImageDirect
ImageDirect is a web-based, hosted image management service that enables customers to easily create, manage, and load custom images for Dell commercial client systems.Advanced Configuration Services
With Advanced Configuration Services (ACS), you can save time and resources by selecting various settings during the purchase process. You can choose to partition your hard drive; select boot order; change BIOS settings; and modify various standard software configuration settings.